I've been so incredibly lazy in keeping this up to date.
So, we're finally in April and I think it's fair to say that Winter is officially over. I made it another year! I definitely feel a sense of pride in making it through...I wasn't sure how this second go at winter having experienced a pretty bad one last year. I'd been dreading it but it really wasn't as bad. Patrick says that's a true sign of being a Chicagoan.
And then, of course, we had that trip to Aruba! All I could say is, it was absolutely glorious! We left Chicago in minus 0 temps with snow on the ground and landed in Aruba in almost 30 degree weather.
We stayed at The Divi Village Golf & Beach Resort (thanks to Patrick's folks who had a timeshare there). We each had our own rooms -- they were huge, with 2 bathrooms each, living room and a kitchen. The rooms themselves were not much to write home about but overall, the resort was really pleasant, had good restaurants and I loved how the beach that was right across from it is one of the least crowded beaches around.
I had so much fun with my GoPro that I was immediately capturing everything as soon as we got there...actually, even as soon as we left our house. I made this short clip but embarrassingly enough, I haven't had a chance to trawl through the rest of the footage from my memory card.
The idea was to create short snippets like this of the whole trip but let's hope I get to that before it's too late!
So what did we do there? We mostly laid out in the sun and read. The genius that I am, I was determined to come home with a significant tan, decided to forego sunscreen (aka common sense) and use suntan oil instead (with an amazing SPF of FOUR) and baked for hours on the first full day that we were there. That night, as I showered, my whole body felt like on fire. I didn't look visibly sunburnt but I definitely felt it. On the plus side, I was grinning ear to ear with the much deeper tan colour I was changing into. Meanwhile, Patrick, who burns within mere minutes after contact with sun, was on full sunscreen defense mode, applying and reapplying sunscreen what seemed like every 15 minutes. It worked, he left that island with a healthy glow but no real damage. He did use up three full bottles of sunscreen spray though.
Anyway, back to Aruba. The people we met were all incredibly friendly, gave us great recommendations for places to eat and I suppose, unsurprisingly, met a number of Filipinos who now call Aruba home.
Our day would start with each of us making breakfast in our own rooms, eggs all day, and then venturing out to either explore or go to the beach. We had one day where we rented a van and drove around the whole island. It should have taken us a couple of hours or so but we got lost along the way but it was still a really great way of seeing the island.
If we weren't on the beach, you'd definitely find us by the pool. At first I thought, these idiots, why bother with the pool when the beach is right there?! But after Patrick successfully forced me to give the slide a go, I knew why. He was the number one user of that slide. Actually, no, scratch that. There was this 2 or 3 year old kid who trumped him (we called him our friend, he would always wave to us and wanted to join us on the slide). But yeah, a close second. We even got Julie to go! It was a blast!
Something has to be said about the food there. P and I decided to relax our diet and ate fish while we were there. We would always go for dinner together and man, those Arubans sure know how to cook their fish! Almost every meal I've had there was awesome. The only downside is that it is also quite pricey to eat out. We averaged around $40 per person for a meal and a drink. But, when in Rome, right?
We also signed up to do some tours. We did a Sunset Sailing Tour and a snorkeling one. Here are some photos.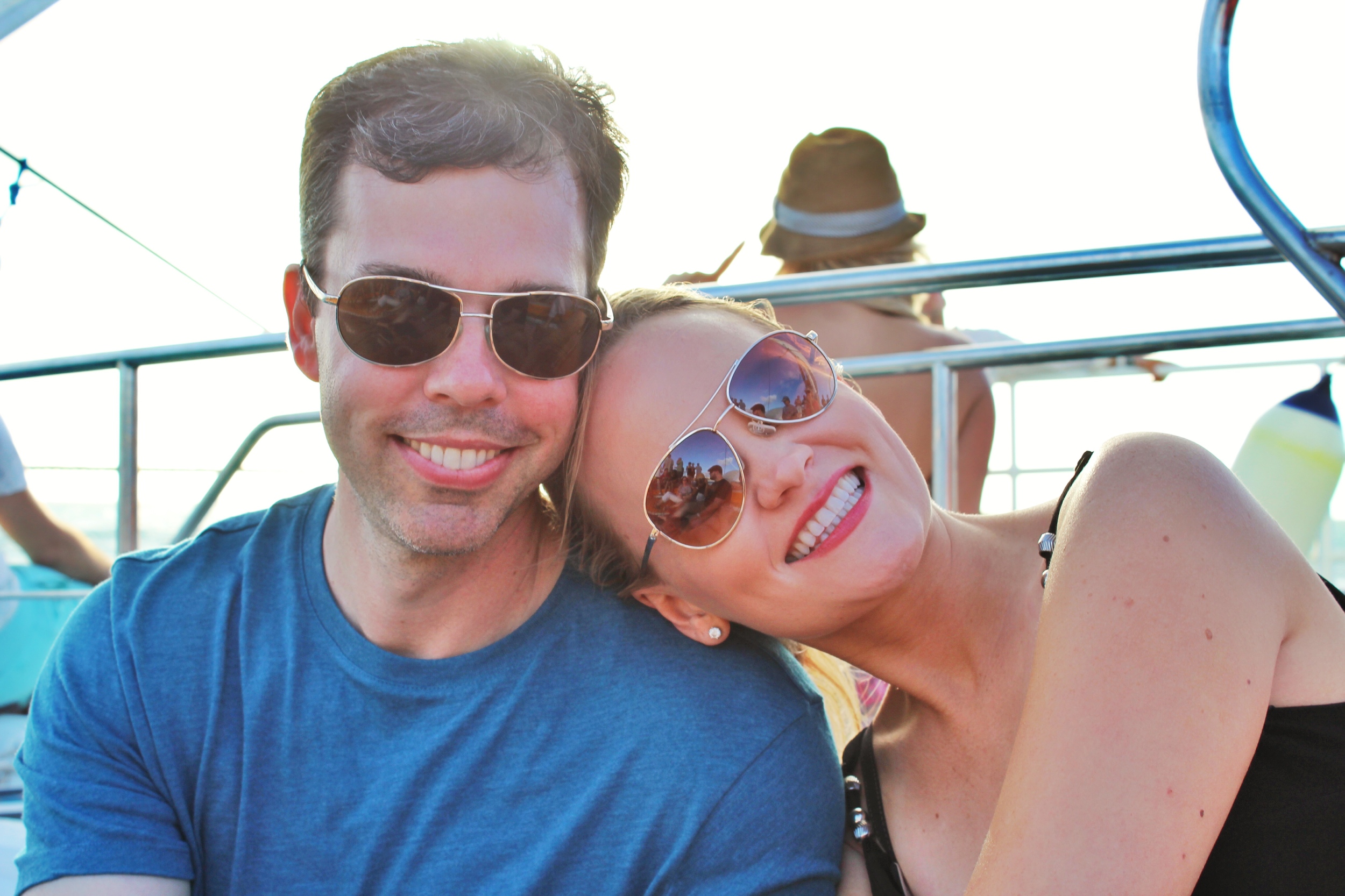 I don't really have that many photos from our snorkeling trip (because I haven't downloaded most of them yet) but I should say it was both a great and jarring experience for me. The tour had 3 stops to make around the island. The first one was okay, less panicky about being in the water but I definitely was feeling nauseous after we boarded back. The second stop, we were in much deeper water and the highlight of that is the sunken ship at the bottom. In theory, it all sounded exciting and NatGeo-ish but then I just had a panic attack. The waters have been so choppy that morning and I suddenly have this image of me being washed so far out ala-Open Water. I couldn't do it. Patrick and Julie braved the waters and he got some amazing footage of what he saw.
Why am I such a wuss?
Anyway, the third stop which was now back again to shallower waters, and feeling much better from the seltzer water the nice crewman gave me, I had a much more pleasant experience snorkeling. IMO, the fish and coral in Cebu were a lot more interesting but these little guys were pretty neat, too.
And since I am the resident photographer, what's a family trip without me taking the requisite HHWW on the beach snaps? I'm not even kidding, there was a serious conversation about taking this opportunity to shoot our 2015 CHRISTMAS card photos.
Thankfully, we nixed that idea...it was just March after all. And it wasn't even the right season! /sarcasm
Aren't these couples beautiful?
And then of course, us <3
We ended our trip with a wonderful beachside dinner at the lovely Ricardo's. Best food we've had in our whole trip and it took us only 10 minutes to walk alongside the beach to get there.
All in all, it was the perfect winter break trip. If not for the massive delays we had on the way back to Chicago, this trip would have been a 10 out of 10. Highly recommended for anyone to visit. You'll certainly find quiet spots, not at all the spring break Cancun scene types, great food, awesome people, turquoise waters and blue skies all year round.
More snaps here!